Big Battery Hunt
Big Battery Hunt
24 June 2022 (by Daryl Spencer (darylspencer))
Our contribution to the recycling challenge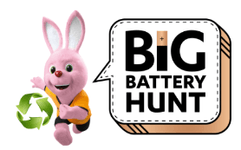 Over the past year we've been collecting discharged batteries in our container in the lobby as part of Duracell's Big Battery Hunt.
The deadline for this year's hunt was today and we've counted 5824 batteries in total!
Whilst the top school had over 54,000, collecting close to 6,000 from our small school is still pretty impressive!
All schools who post a collection total get entered into a raffle for prizes, so fingers crossed that we get lucky.
We'll empty the bin (recycling the batteries at the local collection centre) and make a start on collecting for next year's round.
Share this: