Gold standard!
Gold standard!
30 June 2022 (by Daryl Spencer (darylspencer))
Green tree Award upgraded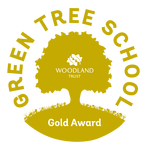 We're thrilled to be able to report that, as a result of our recent woodland visits and recycling efforts, we've made it to Gold Award status in the Woodland Trust's Green tree Schools Awards.
Now we need to build on progress so far and aim for platinum!

Share this: