Weather gods grumpy...
Weather gods grumpy...
15 July 2022 (by Daryl Spencer (darylspencer))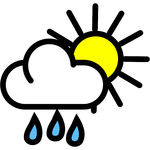 Whilst the skies are dark and the temperatures low right now, the forecast from 11 onwards is 'ok'.
We have a damp plan that is mostly undercover, just in case, but currently confident that Mr Blue Sky WILL return in time for this evening's social.
Share this: