A Bumper Crop
A Bumper Crop
15 July 2022 (by Daryl Spencer (darylspencer))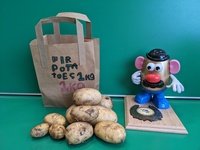 At the end of March, just before the Easter break, each class was handed six seed potatoes - 3 NICOLA variety and 3 NADINE - and asked to work out how to grow them to see how many they could produce.
This week they were dug up!
Each class has counted them and the results were:
Early Years: 168 - approx. 10kg
Class 1: 184 - approx. 12kg
Class 2: 152 - approx. 11kg
Class 3: 223 - approx. 13kg
Which makes Class 3 the winners of the inaugural Golden Potato Award!
Whilst some have been eaten by children, we plan to sell the rest at the summer social. The going rate for good new potatoes at the Co-op seems to be £4.50 a kilo, so we're pitching at £4 per 1 kg bag.
Money raised will go towards our next crops so we can expand our grocery enterprise!
Share this: