CHRISTMAS JUMPER DAY!
CHRISTMAS JUMPER DAY!
7 December 2022 (by Daryl Spencer (darylspencer))
Thursday 8th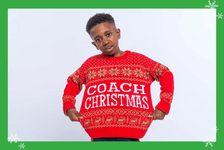 Reminder
Tomorrow, Thursday 8th December 2022 will be Save the Children's 11th Christmas Jumper Day!
And guess what, it's going to be their best yet. This year, the UK government's promised to give the same amount as you give. Every time we give £2 to Save the Children, the government will also give £2.
Double the funds, double the fun!
Whilst the recommended donation is £2, anything you can give is appreciated. Copper, silver and gold coins will all add to the overall total!
Share this: